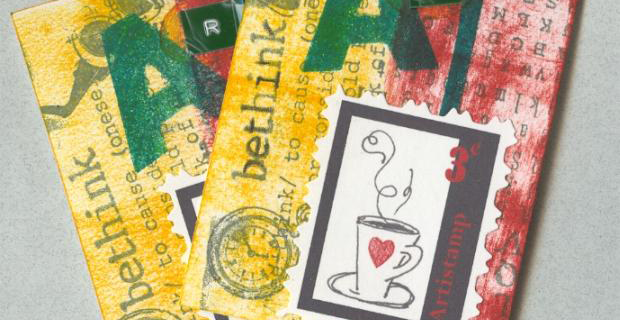 This is an archived posting from my previous website "Chips Antidotal Wanderings" – a personal blog about family, creative moments, and pain management activities in my life. That blog was active from 2004-2011.
I've been working on a project that will end up with several of my artistamps being published later in the year. This is a short account of my creative proccess for the Artistamp that I finished today. I had the idea of a coffee or hot tea cup with a heart on it. First a few sketches to put my ideas on paper:
It took me a while practising my swirlies before I came up with a heart shape puff of steam. And getting the cup the right height was a challenge for me too. But I knew I wanted the final project to be very Hand-Sketched like so I just kept working on it.
After I came up with the ones I liked best, I scanned them into the computer and added the heart… texturing it with some options I have in my graphics program. DH decided on the stamp worth (3-cents). Here's the final design.
Here it is cut out:
I really like the way it came out. What do you think? I also made up a few ATC's I created using this same Artistamp design. These are for the monthly Artistamp swap hosted by Ria at the Renaissance Chameleon. Check out some of my other Artistamp creations in my Artistamp Set at Flickr.
Thanks for looking. I always welcome comments and creative advice!
~Cindy
.