What is a Mandala?
Before I get started on the Mandala gig this month, I thought I best do a wee bit of explaining.  I don't want to assume that if you've shown up at my blog you already know what a mandala is.  I know that many of you will, but there may be some who are new to this art form and might like to know more about them.  So I put together this little information packet telling you what mandalas are, a tiny bit of history on them, and examples of 5 methods commonly used for drawing patterned mandalas.  Simply click here to open and download this Introduction to Mandalas guide.
5 Mandala Drawing Methods Video
Please let me know if you have any additional questions or comments you'd like to add about these easy drawing methods.  I love to you hear from RainbowElephant visitors in the blog comment section and I always enjoy reading the emails you send me too.
Blog Visitor Coupon!
A little something extra for my blog visitors who would like to pick up the Circular Grid Drawing Guide: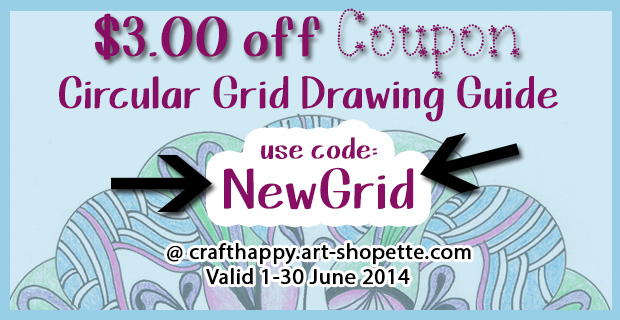 Between now and 30 June 2013 use the coupon code NewGrid when you check out at http://crafthappy.art-shopette.com and you'll get $3 off your Circular Grid purchase!
Cheers,
~Cindy