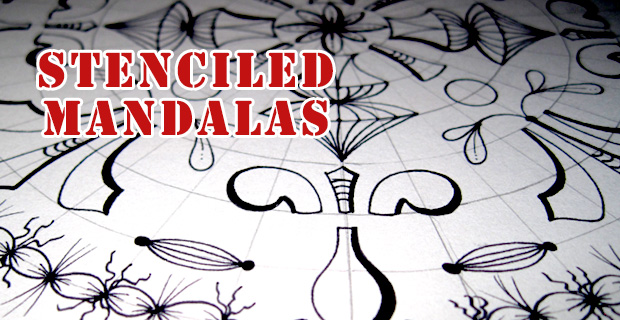 .
Mandalas Using Stencils
It's time for another mandala tutorial!  In this video-how-to I'm sharing with you yet another way you can get some play time with your stencils. I hope you'll enjoy this option as much as I do!
The advantage of using stencils over, say rubber stamps, is that you can flip your stencil over and have an exact opposite shape so it's easier to mirror design items on opposite sides of your mandala.
One of the disadvantages is that if you're stencil isn't transparent, it might be a little challenging to see the placement of your shapes.  Set your stencil on the page so the grid lines run through the opening of your stencil shapes and it'll still be fairly easy to get the placement just right.  And if it's not exactly right – well that's okay too.  Perfection is waaay over rated!
Mandalas are meant to be fun and relaxing! Remember what I said in the mandala drawing guide?  For many people mandalas are the perfect combination of elements for personal growth or relaxation because of the line work and pattern making, quiet focus, precision, artful play, and a calmness where nothing else is
going on except the occasional emergence of an unexpected design. A person can easily lose themselves in mandala making for hours or days!
So sit back with your stencils and pens and just have fun with it!
Video Tutorial of Stenciled Mandala Project
.

.
Mandalas with Stencils and Rubber Stamping!
And just in case you haven't seen this video from the Circular Grid Drawing Guide video training page – here's a tutorial showing me using both stencils and rubber stamps to create a mandala.  Enjoy!
.
.
There's just a few more days left in my mandala series, but the fun hasn't stopped yet.  I've got a few more goodies up my sleeve.
Next up is another mandala-starter template GiveAway!
Have a great weekend everyone!
~Cindy