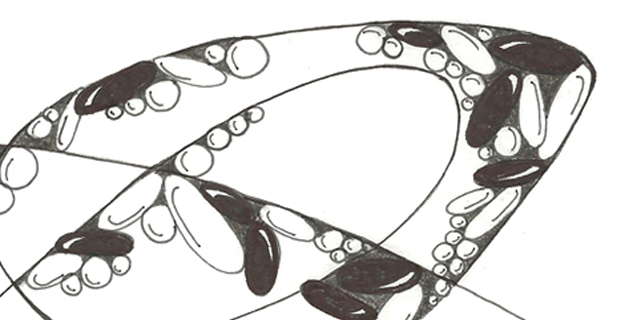 I have a very limited amount of time this morning, but I still wanted to get a few more migraine awareness prompts accomplished and share with a Single-Stroke Abstract drawing.  It's a piece of art created during one of my therapy sessions.
Migraine Awareness Month #15: Harry Potter: Write & name a spell for getting rid of a Migraine/Headache attack.  Well I gotta be honest here.  I never read any of the Harry Potter books nor have I seen any of the Harry Potter movies.  So writing a magical spell in tune with Harry and his friends isn't exactly going to work for me.  I don't have the magic wand for such things.  However I do have a few other gizmos up my sleeve that you might be interested in:
IPhone Apps for Tracking and Understanding your Chronic Pain:
I find a migraine headache diary is a must in order to track my triggers, and manage the info I need to provide to my provider, and keep track of medications taken.  It's so much easier to do this on my iphone these days too.  I've tried several apps and the one that offers the most (in my humble opinion) is called Headache Diary (ecoHeadache) – ecoTouchMedia.com  They have a free version and a paid version. The report summaries really clarify what's working, what's not, and which triggers to avoid!  This is my go-to migraine app.
Another helpful app for folks dealing with chronic pain is the WebMD Pain Coach – WebMD.  Not only does it let you manage your headache information, but it also includes other health trackers also as well as your overall wellness.  This app also offers lots of helpful tips for managing your pain in general.
Books you May Find Helpful:
If you are wanting some up-lifing inspiration and inspiration for tangling at the same time, check out: With God All Things Are Possible
.  I haven't actually picked up a copy of this one yet, but I have thoroughly enjoyed Joanne Fink's Zenspirations
 book. I'm betting this one is pretty good too, especially if you find spiritual inspirational sayings beneficial to you.  This is a hardcover book published through Harvest House Publishers.  It looks like it might be a great book for gifting to others as well.  So far it has received very high reviews!
A must read for anyone dealing with chronic pain is: Sick and Tired of Feeling Sick and Tired: Living with Invisible Chronic Illness (New Edition)

I happen to have the Kindle version which cost less and happens to be handier for me to read on my iPad. It's written by Paul J. Donoghue and Mary E Siegel.  This book is direct at a wide audience to include healthcare providers, families, and patients dealing with invisible chronic illness (ICI)–those conditions that are chronic and disabling but not readily apparent to the casual observer. In Part 1, they define ICI and offer brief descriptions of a wide range of diseases that fit their criteria. They discuss in clinical, detached language the impact of ICI on the patient, family, friends, and employers. Part 2 of the book is directed specifically to the patient, offering coping mechanisms to enhance quality of life through positive thinking, effective communication, and pain management techniques. The book  resources for additional reading and health related associations.
And when it comes to managing stressful moments whether it be health related or otherwise, you may want to pick up a copy of: Managing stress : principles and strategies for health and well-being
.  You may find little book by Brian Luke Seaward a bit pricey for a paperback, but it's worth the price.  And while Amazon doesn't carry it themselves, there are plenty of other folks over there who can make it available to you both new and used.  I have found it to be beneficial to helping me keep my stressful moments at bay.
Mandala Madness
I find drawing Mandalas very relaxing and therapeutic too.  If you do too, I have plenty of mandala templates you are welcome to download and play with.  You can use them over and over again.  Check out my Circular Sunday Mandalas category to see all the templates I've handed out so far.
If you like doing yours in a more free-hand style, take a look at Genvieve's mandala dot templates.  They are great!
I have several pieces of Migraine Art available for prints at FAA.  When you are at Fine Art America simply search under:art therapy art or visit my personal gallery!
If you have a magic wand or know any mystical healing spells, I wish you luck in making that happen for yourself today.  If you prefer a more spiritual path to healing, I wish you well with that today also.
Have a wonderfully doodly day of good health!
~Cindy
June 2013, Migraine and Headache Awareness Month, is dedicated to Unmasking the Mystery of Chronic Headache Disorders. The 2013 Migraine and Headache Awareness Month Blog Challenge is a project of FightingHeadacheDisorders.com.