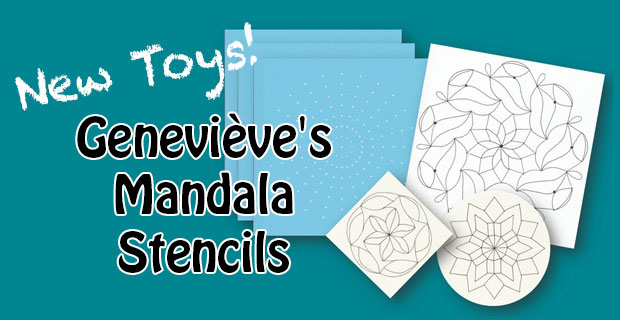 Guess what I received in the mail last week?  Two sets of new mandala stencils from Genevieve!  One set for me to play with and another for a lucky blog ready!  She recently announced she created this awesome set of tools…. well okay really they are more like toys to me, but you get my point. Right?!  And I just had to get my hands on them to give them a spin around the block.  I am tickled to get the chance to give a quick review of these stencils and to also offer you the opportunity to get a free set of them for yourself too!
These flexible mylar sheets contain rows of holes carefully measured out to help you create guide points on your page at the start of a mandala project. You lay the stencil on your paper so the center dot is where you want the middle of your mandala to be.  Then, using a pencil you draw a small mark where each dot is on the stencil and this gives you the guide points needed to start drawing your repeat pattern art lines.  Now if this sounds too confusing to you – no worries!  Because Genevieve has a handy instruction sheet included in the package with these stencils and it shows exactly how to do this along with some examples to help you get the hang of it.
There are three stencils in the package.  One includes guide dots at 10 degrees, one for 15 degrees and one for 22.5 degrees. And she has included on each of these sheets – a sticker to indicate which is which.  I found that extra little detail to be handy indeed!  Another thing I like about this product is that the pages are standard letter size.  This makes it easy for me to store them in my pattern library binder along side some of my other drawing tools.
Peek into the Package
Here's a little video Genevieve put together to show you how this product can work for you:
.
Challenges Without Lines
In the video she describes how after drawing lines on her paper – she learned that she really only works with the points where the lines meet.  And that's the premise of this tools.  It gives you those connecting points without you having to measure out and draw lines.  This can save you time and allow you to use fewer tools to accomplish the task of drawing your guides at the start of a project.
Now what I learned along the way is that I do actually use the lines and the circular grid  they create as a visual guide when adding my pen lines.  So without having those lines in place, I was a bit lost the first time I used one of  the stencils.  I found myself having to stop and look closely at my dots periodically to make sure I was working evenly around the page.  On my first mandala I didn't do it right.  The next one was easier for me to accomplish.  It was really just a matter of learning to work with dots and getting accustomed to working without the lines on the paper.
Less is More
When using a guide of dots rather than lines you have less erasing to accomplish after your project is done.  And sometimes you don't even have to erase at all because the dots are usually covered up with your pen markings.  Less time spent on erasing gives you more time for your creativity.  And fewer chances of smearing your art work as well!  So if you are used to working with grid lines like me – you might want to consider adjusting your process to work with the easier dot method as described by Genevieve.  These stencils would be the perfect tool to help you along your creative pathway.
Get Yours Now!
Do you enjoy drawing mandalas?  Like the idea of using fewer tools to accomplish the task of getting a guide into place as you start your project?  How about using dots as guides rather than lines?  If you answer yes to any of these questions then you are going to want to add this kit of stencils to your wish list and pick up your set straight away!  Genevieve sells them directly from her Tangle Harmony website – jump over there now to place your order.
What'a Ya Think?
Remember I said I received two sets of these handy little stencils in the mail?  Well that second package is sitting here on my drafting table waiting to go to a new home.
I invite you to leave your comments here letting me know your thoughts about this set of stencil tools, any other tools you find helpful, or tools you think may be handy to have – to assist with your drawing endeavors.  On Halloween night (the 31st of this month) I'll toss into a bucket the names of everyone who shared their thoughts here.  I'll then pull out one name and that person will be contacted for their address so I can zip this package off to you in the mail!
I look forward to hearing your thoughts and passing along to one lucky raffle winner a set of terrific mandala stencils!
~Cindy