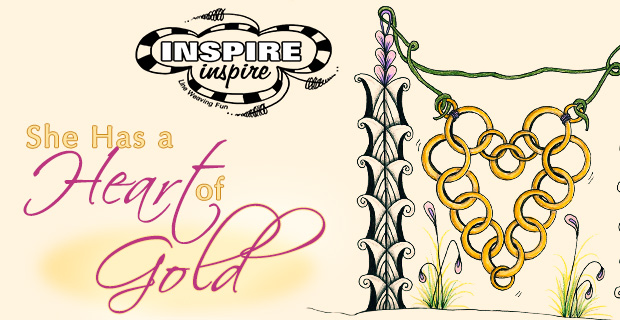 I have a new Inspire, Inspire Journal prompt to share.  I was thinking about a friend of mine in the wee hours of the night during a wakeful moment and the thought of "She Has a Heart of Gold" popped into my head.  It seemed to be a good journal prompt and so first thing this morning I dug out my journal and played with this thought for a bit.  This is the page I came up with: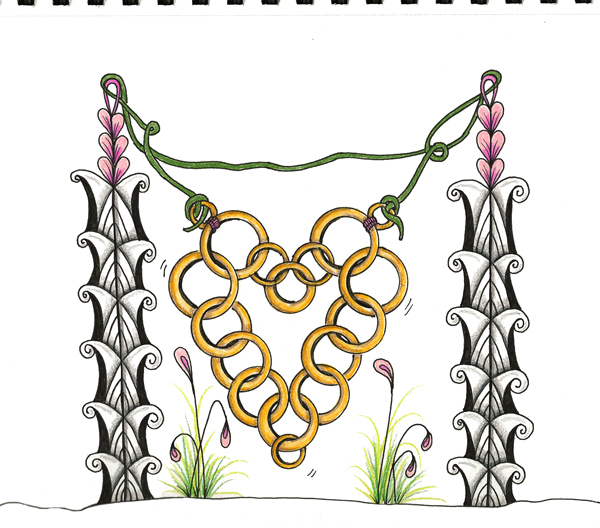 Now it's your turn to Create!
Who's the first person that comes to your mind at this very minute?  A person you enjoy being around, or maybe someone you aren't too fond of?  Either way – think on the phrase, "She/He has a ____________ " … and fill in the blank.  Then use that as a theme in one of your creative journals!
Whatever could we come up with? … "a foot stuck in his mouth,"  "a blob of gum on her headboard," "a head full of tangles," "a smile, a mile wide," "a talent for tangling,"…. oh my!  There are so many choices!  Take a minute to leave me a comment and tell me what came to mind for you.  Then maybe share your creation in our gallery too!
Aommes Pattern Coming Soon!
The pattern I used for the pillars in my journal drawing is called Aommes.  I thought I had shared it with you all before.  However, I just took a look at my pattern list and see that I haven't.  So I'll pull together a pattern worksheet for my friendly blog visitors and share it out to you within the next few days.  If I can track down my video camera (where did I put that thing?) – then I'll do up a how-to-video as well.  It's actually quite easy to draw, but some folks find it easier once they've seen some one else do it first.  😀
Until next time – Have a Fab-dab-u-lous Day!
~ Cindy