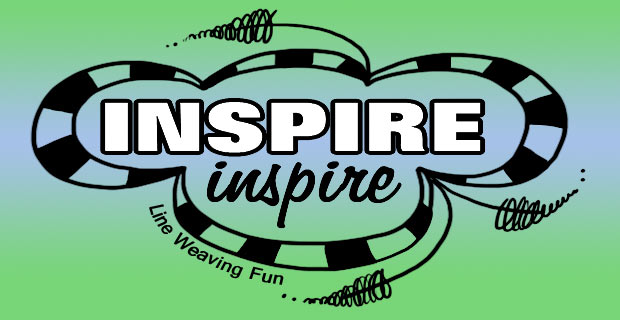 As I do every year I'll be working on multiple creative journals at the same time.  In 2010 one of my journals was filled with only repeat pattern art drawings.  I've decided once again to dedicate one of my journals to just line-weaving creations for 2012.  Maybe you'd like to do the same?  If so, I think I can help you along the way with inspiration for your artful pages.
You're invited to come and join me for the Inspire, Inspire Art Journal project – 2012!
What is the Inspire, Inspire Project?
Let me tell you how I go about doing this and hopefully you'll want to do something similar this year as well.  This is a journaling project that's purpose is to make the artist stop and think, ponder, and dream about a wide variety of things.  And then to pick up your pen and sketch pad and express your thoughts through repetitive pattern art.
Before the drawing part starts, I toss out a creative idea prompter – something to get the mind a wandering/wondering and to push ye ol' muse into action. As a result of this, sometimes I wind up looking deep into my heart and soul and then begin working fully engaged and rather feverishly on very mindful page projects.  However, sometimes I just flutter around with a loose idea.  There are days when my final project reveals to anyone looking at the piece all those things that were floating around in my head.  More often though my thoughts are "hidden" in the creative project and I'm the only one that knows what's really going on, on the page.
This is basically a project that uses idea generators (or prompts) to open the mind and encourages creative expression of anything one wants to – using patterns that flow out of the end of their pen at the time of creation.
So to answer the question at hand – the Inspire, Inspire Project is simply an ongoing creative festival of the mind, spirit, and the hands in repetitive motion .
How Often, How Many, How to Create?
Now here's the thing.  I simply can't commit to tossing out a new prompter every day… nor on any other sort of pre-determined schedule.  Sometimes the prompts may come just one day after the previous one.  Sometimes there may be several days in between.  Sometimes the prompts may present you with an idea in a very timely manner, but there may be times when the creative prompt just doesn't really jump-start anything for you.  There may even be times when the prompt takes you down a completely different road than it did for me.
I don't number my prompts, date them, nor keep track of them using any type of specific method.  They are generated as the earth moves under my feet and in the spur of the moment without any planning.  Each prompt stands on  it's own.  There's no such thing as "jumping in late" or "falling behind" on this journaling project.
So you can use the Inspire, Inspire Journal Project in whatever way works best for you.  Create as often as you want and on however many pages you want at a time.  Use the prompts for fun, for personal introspection, for creative juice, or just to give yourself a giggle once in a while if'n you want.
Who's the Project for?
Anyone who enjoys repeat pattern art.  Anyone who wants to try repeat pattern art.  Anyone who's interested in Creative Art Journaling…. and especially for those who want to do a creative journal that's…. well….. less messy.  LOL I love doing the multimedia journals that I so dig into every year.  But I also like to have one that fits nicely into my handbag that doesn't have things popping out the edges.  😛  So this one is the journal I use for the less messy, but super creative expression that I so enjoy!  And without the lengthy clean up.
How to Get Involved?
It's easy to participate.  Simply grab a blank-page type sketch journal or just some loose-leaf paper if you prefer.  Also get your hands on your favorite drawing pens, pencils, and markers.  Visit my blog and/or Lineweaving.com forums often throughout the year.  Because I'll be posting the creative prompts in both places.  Better yet – sign up for email notifications from here and from inside the community too!  That way you're sure to never miss a prompt whether I sent it the next day or the week after the last.  😀  With me and my (ahem…) schedule (?), you just never know when the next one will show up.
To make it easy – I'll post an Inspire, Inspire picture with each prompt here at my blog and mark the postings in the Inspire, Inspire Project category as well.  That way you can easily jump to them anytime you pop in for a visit here at the Rainbow Elephant.  And I'll open a discussion board just for Inspire, Inspire, Projects in the LineWeaving Forums too.  After all, none of us want to have to hunt for the inspiration when we're stuck in a creative slump.  We want it to jump out at us and land flat in our laps.  Am I right?
As the Year Moves Forward…
One of the things that I find especially enjoyable about creative journaling is revisiting the pages to reminisce again or simply look back at what I created from earlier in the year.  Sometimes seeing something new on the revisit.  You may find the same thing turning into a habit after a while too.  So keep your Inspire, Inspire project pages together in a journal or maybe in a box or folder.  That way they will continue to provide you with pleasure throughout the year and maybe in forward years to come as well.
Get Ready – Get Set…. Very Soon I'll be Saying – Go!
 ~Cindy