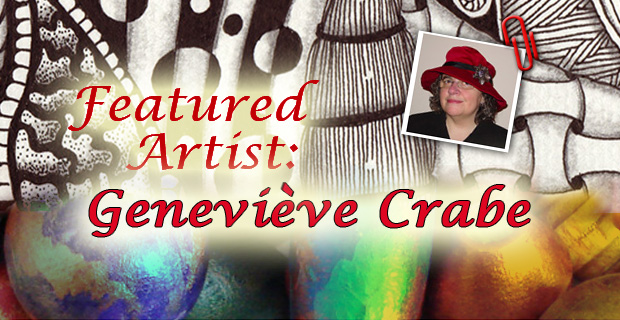 Have you seen this red-hat gal bouncing around the web with her artistic works?  Although Genevieve Crabe is located in Canada, she's doing fun things all around the world….. the World Wide Web that is.
She expresses her artful interests at:  The Crafters Internet 2.0, Amaryllis Creations, and Tangle Harmony to name just a few places she can be found on the web.  She also hangs out at our LineWeaver.com website and that's where I caught up with her to request an interview.  She agreed to sit and chat with me for a spell and tell me about what inspires her, what sort of crafty things she's up to, and where you can find her teaching the Zentangle® drawing methods along with other creative endeavors.
Inspiration from Past and Present
Genevieve's creations are inspired by flowers and other things found in nature as well as sketch books from her Mom's artful works done in the past.  Her muse also pulls pattern ideas from books about ornamental designs – especially those of a 'grid–like' nature.  And just recently she took a class on Celtic knots which she intends to do some new pattern work with.  I'm truly looking forward to that!
Shared Interests
Genevieve has been drawing for many years and like me – her interests in repetitive pattern art dates back to her childhood.  We both have shared several of our tangley patterns in the Pattern Library at the LineWeaving.com forums. And we also share a common interest in using similar materials in our tool bag… we both like Micron pens and Prisma colored pencils!  She's recently fallen in love with some ink tint water colors as well and she mentions them in the interview I did with her.
Sharing our Phone Conversation
I had a few Skype issues that tried to keep us from recording our conversation, but with some extra persistence on my end and patience from Genevieve we finally got the interview underway. Click here to listen in on our conversation. You'll learn about how Miss Crabe came to know about tangling, which lead to her taking an instructors class on the Zentangle® method of repetitive pattern art that she is now teaching to others. She shares with us information about the tools she provides to folks who share an interest in pen-and-ink art forms too.
Genevieve's Art Galleries
Genevieve shares much of her art with the public in her art galleries at flickr where you can see samples of the lapel pins she mentioned in the interview and many of her other creations as well.  If you'd like to read more about Genevieve and her multiple art interests I encourage you to pop over to the Amaryllis Creations hub website  she uses to link you out to several other places online where she shares her art with us.
Thank you!
I'm grateful to Miss Crabe for taking the time to talk with me and share her talents with all of us.  Feel free to share your thoughts in a comment here.  I'm sure she'd appreciate hearing from you too!