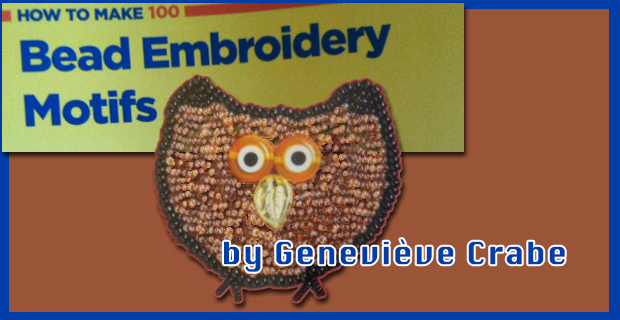 .
A few months back I received my copy of "How to Make 100 Bead Embroidery Motifs" by Geneviève Crabe. And I was tickled to receive this mail for sure. Geneviève is not just a cyber friend in our lineweaving community, but she's also an instructor of various art forms, a product creator, a certified teacher of the Zentangle® drawing method, and of course an author too.  Among her many talents – she's also an embroidery and bead enthusiast. Her new book is a great resource for both beginners (like me) who've never done any bead embroidery before as well as for those who are already familiar with this art form.  It's filled with great instruction, examples galore, resources, and diagrams too.  Here's my thoughts on this publication:
What I Like About this Book
This book is filled with tons of patterns, terrific guidance, and great pictures too!
The diagrams showing where to place beads along with the written instructions are superb and very easy to follow.  Photographs of finished embroidery pieces are bright and crisp and actually large enough that I could see how the beaded projects should look when completed.  Surprisingly that's something that many instructional books don't provide.  This one does.  Each motif takes up a full page.  The instructions are displayed as "Ingredients" and "Recipes" and shown in short bullet-like lists.  Geneviève has provided tips in highlighted text blocks to clarify some of the possibly more difficult things to understand.  This is especially helpful to noobs like me!
The pages lay flat enough that the book stays open without me having to hold my hand on the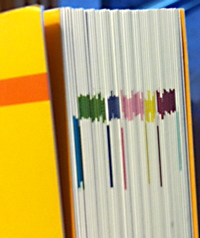 book.  It's really frustrating when an instructional book keeps closing on me if I don't weight down the pages.  This book doesn't do that – Yippy! There are five design sections in the book, Flora and Fauna; Symbols and Objects, Monograms, Circular Designs, and Abstract Designs.  Each sections is identified by a color banner that extends to the edge of the page.  This makes it very convenient to find your favorite section even by looking at the closed book.
The Technical Support section of the book is where she offers lists of supplies and tools.  It's also where she includes more detailed instructions on how to work through a variety of stitching techniques.  This is the most helpful section for someone who's never done any motif beading.  Oddly enough this was in the back pages of the book rather than in front.  Most instruction manuals have this basic info in the first chapters of a book. While at first that left me a bit confused, I certainly didn't find it bothersome.  Just different.  The instructions in this section are very professional looking with super guidance provided both in text and in picture form.  Geneviève also includes a page of instruction on how to use her Mandala Stencils to create motifs.
What I Wasn't Crazy About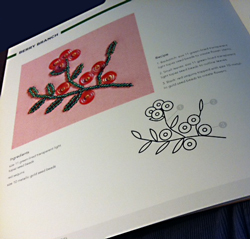 Each page has a very simplistic layout with lots of white space.  Which makes it super easy to follow!  However, while this layout left plenty of space to allow for larger fonts – it seems the publishers opted to go with a very small (almost too small) size font.  Even with my glasses on, I have to hold the book fairly close to read the type.  No my glasses do not need updating (I just saw optomitrist last week).  The font used appears to less than 11pt.  It might even be something like size 8pt.  With such small font it's a good thing it was black ink on white pages or I would have been in trouble!
Thumbs Up from Me!
Okay – so I haven't actually done any bead work from this book…. yet.  However I do have a ton of seed beads and other bead goodies in my stash.  I'm definitely looking forward to trying my hand at this embroidery style.  Especially sense I spied a Kokopelli design in there!  I have several leather cases for my Lakota flutes – that could use a bit of  beadwork on them.  When I carve out some time to complete those, I'll for sure give you a show-and-tell of the projects.  I'm confident that with the great instructions provided in this book I'll be able to do that successfully!  😀
I give this book an excellent rating – and not just because Geneviève was sweet enough to use my owl design in her motifs (see top banner picture – that's her handy work)!  The 2-thumbs-ups is mainly because this is a terrific resource for anyone looking for motif patterns and/or wanting to learn how to do basic bead embroidery.
I hope this isn't going to turn into another creative addiction for me.  I suspect it might.  LOL  You can pick up How to Make 100 Bead Embroidery Motifs: Inspiration and Instructions for Plant, Animal, Abstract, and Icon Designs
from Amazon or possibly at your local book store too!
Thank you Geneviève for another fun crafty product!
Hugs to All,
~Cindy