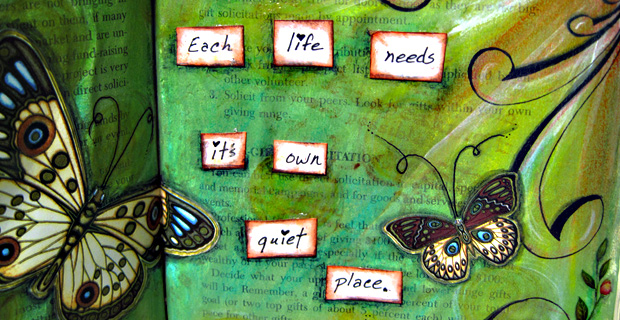 Recently I shared with my friends in the LineWeaving community one of the pages from an altered book I've had in the works forever. After a couple questions about how to do acrylic wash backgrounds I did up a little series of videos showing several super easy options for adding color to book pages before starting a drawing project on them.  These were very basic backgrounds that leave the page smooth enough to run your pen over if you're a doodley sort like the folks in our community are.
I told folks that I would share with them the finished book pages too.  So now that the how-to video series is done I've started working the pages.  While working on the green acrylic wash pages I had the camera going.  So I captured the creative process and put it onto fast forward gear in the below video.  No narrative.  Just lots of fast movements showing you the steps I took to create the pages.  It's a little easier to see the details if you maximize the video screen size on your screen.
There's housework to be done (well sort of), a job to go to, meals to eat, books to read, shopping, and all sorts of other things to do.  So it took me a few different sittings over a couple days time to finish the project.  I managed to get it all squeezed into a video that takes about 13 minutes.  🙂 Don't you just love technology and all the wonderful things we can do with it?!  Now if I could just get the housework thing to go that quickly too!
Okay – enough rattling on.  Here's the video.

Did you notice I used the pattern Zipclurve on the page?  You can grab the pattern worksheet page from my blog post from earlier this week. It's super easy to draw and is a fun flourish on page corners!
Additional Spreads in the Altered Book:
More info can be found inside the community on the simple background tinting also: http://lineweaving.com.  Thanks for looking!
Have a Fab-dab-ulously Doodley Day!
~Cindy