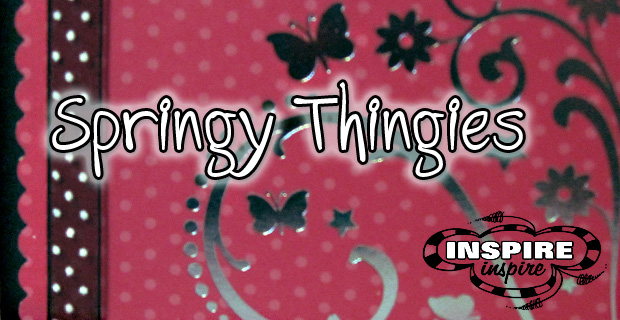 Spring is in the air where I live.  The crocus poked their little heads up this past week and so I suspect we'll only see a couple more snows this season and soon all the new things of spring will wake up again.  I always look forward to hearing the first meadowlarks and they have yet to arrive, but I know it won't be long and I'm enjoying the anticipation of it all.
Since it's time for a new Inspire, Inspire journal prompt I decided to go with the spring theme.  The creative prompt for this go around is "Springy Thingies."  Now that may have you thinking along the same lines as me and pondering things related to the fresh season of spring.  Then again it may be just the prompt to move you towards trying a new springy, loopy, crazy pattern you've seen along the way.  Maybe it reminds you of the springy toy you had has a child?  Remember those Slinkies?  Such fun!
Whatever this little prompt brings to mind for you – take some time this week to play with it and see what you can come up with on your journal pages.  I look forward to seeing what there is to see in your new pages!
A Special Invitation!
I've just posted a new Spring Fling ATC Swap announcement in the LineWeaving.com community forums.  It's been a while since our last Artist Trading Card swap, so I think it's time for a new one.  This go around our theme is Spring Fling and the card design is a super simple "cardstock frame" that even a new ATC crafter can wrap their head around.  For this 3-for-3 card swap all you do is create 3 small repeat pattern design ATC's, send them in – and you'll receive 3 cards back from other talented weavers, tanglers, doodlers!  All the details can be found in the announcement post inside the forums.  I invite you to jump in and join the fun!  Sign up deadline is this Tuesday, 20 March.  So don't delay.  Now is the time to get your name added to the list!
Oh and there's a little something I didn't mention in the forum announcement…. participants in this ATC swap will also receive a special surprise package too!  So there's more than just a terrific set of ATC's from fellow site members that will be mailed back to you.  Hope you'll join in the fun!
Keep a Spring in your Step Today!
~ Cindy