In the last couple of videos I did, I used a template with a small cluster of stacked hearts. I find easy shapes like this a great way to use new design that I find and give them a practice round or two.  Sometimes these practiced doodles even turn out worth bragging about.  :D.
I thought others might find this stacked design handy to have and use as well.  So I decided to put them into a pdf file to share with you.  This heart shaped template is provided in three different sizes for your line weaving and doodling pleasure:  A full letter size page; the  3 1/2″ square size for the Zentangle® fans out there; and the popular 2 1/2 x 3 1/2 ATC size.
And just for fun I also included a stacked star pattern in the template mix as well.  I'll be showing some how-to videos that feature this template in the near future.  So after you download these templates, print them out and get ready to practice new doodles right away!
———————————————————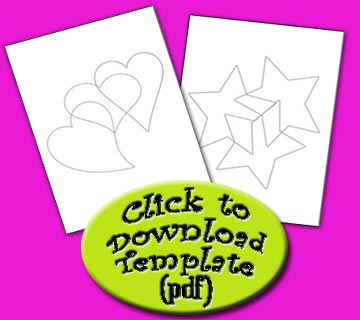 ———————————————————
Here's an example of how to Doodle in them:
Enjoy!
~ Cindy