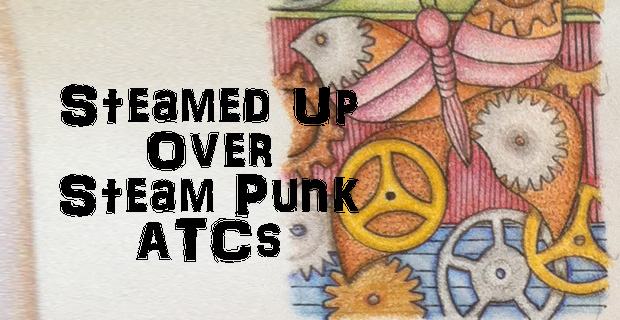 A few weeks back I signed up for an art-swap that was based on a steam punk theme.  This is of course a theme that's not my usual style.  It threw me into a world of metals and hard edges, which is totally different for someone like myself who's preferred interests are feminine and natural type elements.  I knew when I accepted the challenge it would cause me to do some extra research and practice drawings  outside my comfort zone.  What I didn't expect was for it to totally derail me for such a long time!
Not being one who likes to get stuck in a phase for too long, I tend to do this type of "stretching myself beyond" personal creative exercise several times a year.  Sometimes it has offered me new things that I come back to again and again later.  Other times it reveals to me areas that I really don't care to revisit.  Both outcomes are a learning experience for me even when I struggle through the process such as I did this time.
Here's a glimpse of me working my way through a steam punk frenzy.
Research Proved Helpful
This go around I really wasn't looking to learn any new creative techniques.  I was just working on a theme that was new to me.  This Steam Punk craze that folks are having fun playing with involves reenactment and creative invention type activities, based around the Victorian era.  In my research I found plenty of inspiration along the way from the art community as well as others.  The web is filled with examples of wardrobes, jewelry pieces, drawings, gizmos, gadgets, other things with a steam punk feel to them.  Some truly rooted in the genre. Others were an individuals interpretation of steam punk that I didn't quite get where they were coming from.  And although it's not my sort of thing – it was still interesting to learn about the craze and I can see why people find it appealing as it gives them the chance to wander to places both past and future and explore creative urges from inside their hearts and minds.
Finding "Me" in the Mix
So what I found that I thought I could work with for the swap were textures (primarily man made metals, etc.) and shapes rather than actual objects.  I was drawn to watches and other jewelry pieces more than anything else I discovered.  Moving parts were of interest.  And so were recreations of insects and other critters – using tiny metal elements like those found inside a clock.  So I decided to play with those items and see what I could come up with. None of these things are of personal interest to me, but these few little bits seemed to pull me towards them.  So those are the parts I decided to use in my project.
This is a ZIA (Zentangle Inspired Art) swap that I'm working on.  The object of the creative challenge game is to use repeat-pattern art hand-drawings to create a set of Steam Punk themed Artist Trading Cards (ATC).  I've been doing ATC's for years and have a huge collection of traded cards from all around the globe.  So that part of the challenge I'm totally in touch with and thoroughly enjoy. It's only the Steam Punk theme that is a challenge for me.
With the ideas of Steam Punk that seemed to fit with me… I forged forward and started playing with metal bits, insects, watches and such… in my mind and on my sketchpad.
Color and Textures
Pulling away from my research and sitting down at my table one of the first things I did was play with color blends.  I'm used to working with bright colors that have a sense of light, translucency, and cheerfulness to them.  I do enjoy old, dingy, shabby chic looking things as well, especially lace and ruffles, and feminine objects.  However the vintage muted color palettes sometimes bring me down, so I'm careful how I use them.  Now this steam punk stuff is primarily browns, silvers, gold, brass, patina, rusty, metal, leathery, and of course thick glass type textures and surfaces.
First I dug out some markers to see what I could do with "dull" colors.  Well – I didn't really dig them out.  I had them littering my drafting table for several days because I was too lazy to put them away.  LOL Using my Mark-It markers I came up with these color blends that seemed to fit what I was seeing with metals and glass spheres.  And then I drew a little something that felt steam-punk-ish with repeat patterns included.
Obviously that didn't fit the bill.  It was a "not-on-the-mark" creation for sure!  But it was bringing me closer to what I was looking to do and it did help me learn the smoothness of markers wasn't going to work for this project.  I could add textures with extra pen markings, but I just didn't want to go there.  So I had to finally clean up my marker mess and pull out other materials to use in my playtime.  I think my husband had a glimmer of hope in his eye when he saw my tabletop for the first time in weeks. 😉  It didn't stay cleared for long.
Back to the Drawing Table
Going at it with colored pencils this time I decided to use a grainier paper to see if I could get some natural textures created along the way.  My thought was that the white of the paper would add an extra layer of color in the blends.  And as you can see here in my color sample board – the white  speckle that comes through does, in fact,  result in a more textured look.
With my pencil color palette started nicely I went on the hunt for some patterns that I thought might work well for the theme.  I settled on a couple and pressed onward.  Long about now I was feeling like the project was beginning to set me back.  I had several other things planned to do this month besides piddle around with this one swap.  It was beginning to consume more time and effort than I originally planned.  I was feeling the pressure to move past it and back to more enjoyable themes, but I did commit myself to this project.  So I kept moving forward by doing up another sample page with these new colors and chosen patterns.
Feeling the pressure from putting other projects on the back burner – I incorporated a watch into this next one, setting the clock hands near the hour and named the piece, "Late As Usual."  This sampler wound up "hitting the mark" for me.  It's got good texture and has a more inventive type steam-punk feeling… I think.  So at this point in the game I was feeling better about taking on the art-challenge that had begun to drag me down.
Finishing the Unfinished
Then I set aside my piece and quit working on steam punk for a while so I could wrap up a button project I had going.  And before I blinked my eyes twice,  it was almost a week later and I still hadn't worked through my Inspire Inspire Art-Jounal page prompt, "Outside my Comfort Zone." Internally I was doing some brow beating (Pressure! Pressure!  Get with it Cindy – people are waiting on you!!! )  So I opened up the journal and F-I-N-A-L-L-Y worked up my page.  Trying to really hone in on the steam punk feeling I included several of my rambling patterns into the mix.  Here's what I came up with, and while I didn't like this page as much as my little mechanical fish – it did have some elements on it that I liked in the end.  Mr owl for one.  🙂  I think getting this page off my to-do list helped me decide what elements to use on my ATC's also.
Steam Punk ATC's
In the end, instead of using other pattern designs from my library I opted to simply repeat similar gears on each card to create a repeated pattern.  I named this Series "camouflaged" because each critter is likened to a chameleon – with their skin taking on the colors and shapes of the gears in the back ground.
Lessons Learned
Okay – so this theme is one of those I'm not likely to return to just for the heck of it.  I don't think I ever really grasped the flavor of the Steam Punk craze.  Just the same this little creative journey did provide me with some time for experimentation and artful growth.  I'm even more settled today with the fact that working with hard metal textures and muted colors does have an affect on my psychi.  And I'm truly ready to return to my own world of floras, swirls, and bright colors!
What was it like for you the last time  you took a creative detour into somewhere outside your comfort zone?  Did you enjoy the journey?  Did you learn something about your creative self?  I hope so!  And I'd love to hear about it.  Would you leave a reply and share your thoughts with me?
Tomorrow….. a new Inspired Art-Journal Prompt.  I promise!
~ Cindy