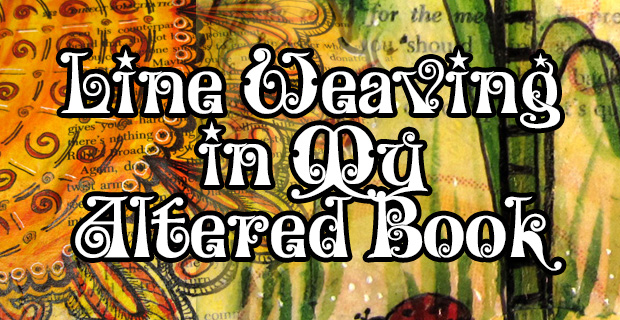 Here's the video showing you the creative process for my little book spread called: You are my Sunshine.  I did the background wash about a month ago when I was doing a little tutorial for the folks inside our LineWeaving community forums, and then I set it aside and did nothing with the page for quite a while.  For the past week, every evening when I set the dinner table with our forks, plates, and napkins – I kept thinking about taking one of these napkins down to my studio and putting it to use in my altered book.  In my early morning dreams I was envisioning how those circles would make for some fun flower heads.  So I finally got around to following through with these thoughts that have been dancing around in my head over a silly napkin. LOL I used this napkin as the inspiration or a little piece of art I accomplished in one of my altered books.
I also included the last two patterns I shared with you: Sunny Grass and Sunny Grid!
.

Did you see how I incorporated my line-weaving along with the other mix of media?  Such fun when I can combine several of my creative interests into a single piece of art!  Are you using your doodley markings in a variety of projects or just having a fun time with them in a sketch pad? Either way – I do hope you are having a good time this weekend.
Thanks for visiting my blog and for looking at my video. Give me a shout and let me know what you think and for sure let me know if you want to see anything new or the same type things I've been sharing.
Hugs to you all!
~Cindy
.