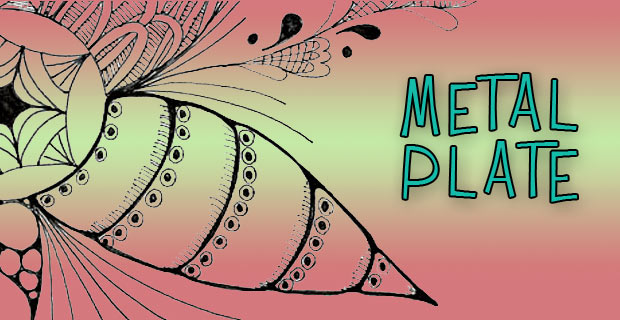 Here's another line-weaving pattern you might enjoy. I call it Metal Plates. I was driving by a roadside construction area when I saw some machine that I have no idea what it was used for – but it had a set of plates on it that looked something like this and I couldn't get the pattern out of my head. So I sketched it out quickly and then broke it down to a few simple steps I thought just about anyone can repeat on their projects too.
Of course you could actually add additional texture lines and details to give it a more realistic look – but then it really wouldn't be a line-weave.  Simple and easy is my preference when it comes to making designs – especially those that I intend to share with other Weavers, Tanglers, Doodlers, and Line-art Enthusiasts.
Let me know if you like this one.  I'd love to hear from ya!
From YouTube:
Here's a quick How-To video I put together to show you just how each step of this design comes together and to share a few examples with you too.  Enjoy!
.
——————————————————
Download this worksheet to add to your collection too!
.
————————————————————————
On this "Inspired Petal Sampler" I added circles around the "bolts."  I think it adds a bit of whimsy…. and it sorta looks like the tail-end of a bee too.  LOL
.
———————————————-
I'll pop back in again next week for some more doodley fun!
~ Cindy